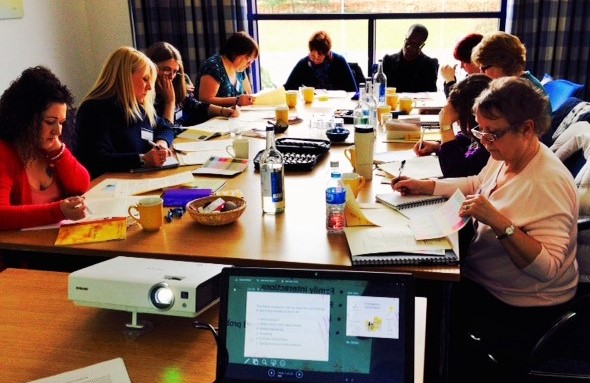 Level 2 students in Newport, February 2015
Bach Centre approved Flower Remedy Courses read on for info on Level 2 and Level 3
NEW Bach Flower Level 1
2024 Level One Online Course
Saturday January 27th, Sunday January 28th, Saturday February 3rd, Sunday February 4th.
9.30-1pm (four x 3.5hr sessions) Zoom
Course fee: £185 including all course materials and signed Bach Centre approved Level 1 PDF Certificate
Payable by Bank transfer (contact me for details) or PayPal
Bachflowercourses@gmail.com
07761-016521
www.facebook.com/bachflowercourses
www.instagram.com/bachflowercourses
NEW - Bach Centre approved, LIVE online Bach Flower Level 1 Course conveniently held over two weekends (four sessions) . If you would like to book, please email to confirm your place (Bachflowercourses@gmail.com). The fee is £185
Learn with others from the comfort of your home. Each session will be three and a half hours long, with a screen break. The course and the hand-outs are in English. Level 1 is ideal for beginners or those who have been using the remedies for a while but would like to have a recognised certificate.
About Level One
This is a fantastic opportunity to deepen your knowledge of this wonderful system and begin using the remedies with more confidence for yourself, family and friends.
Bach Centre-approved Level One courses provide a solid grounding in the remedies. Even experienced users will benefit from the chance to take an in-depth look at the remedies and explore their use in everyday situations. You will even learn a little about working with animals and plants.
Completing any of these courses qualifies you to attend an approved Level Two course. Any student on an approved Level One course is eligible to apply for student registration with the Bach Centre, which can enhance your learning experience.
Level One introduces students to each of the 38 Bach Flower Remedies and to the philosophy of self-help and simplicity that underpins the system. You will start to select remedies for yourself, see how they fit in with your daily life and learn basics such as how and when to take them. Level One is the essential foundation for a complete understanding of Dr Bach's work. The Bach International Education Programme (BIEP) is now established in more than 20 countries. BIEP is the biggest international provider of courses endorsed by the Dr Edward Bach Centre. All students will receive a signed Level One certificate.
Level 1 explores all 38 remedies and their uses and is the first step to becoming a Bach practitioner. It is ideal for using the remedies with self, family and friends and is required for progression to Level 2.
All hand-outs and course materials will be emailed in advance.
Course fee: £185
Further information available by contacting me Bachflowercourses@gmail.com
Feedback:
"Had the most insightful and informative couple of weekends attending Celia's Level 1 Bach Flower Course via zoom. I would highly recommend this course as Celia is extremely insightful and knowledgeable as well as caring, open and approachable. She shared her experiences and supported each of us to explore and engage with all 38 essences. Connecting with the group via zoom was managed very well by Celia and I learnt so much. I now feel I have a deeper understanding of Dr Bach and his methods and a confidence to take my own mixed remedies. Above all I have been inspired to continue my Bach journey. Thank you Celia and the group for a fantastic training experience."
"I have just completed the level one course and would highly recommend both the course and the teacher. Celia has a gentle, warm way of sharing her extensive knowledge and the course very much exceeded my expectations. The pace is relaxed despite the considerable amount of work covered and I now feel much more confident in using the remedies. I have already seen positive changes from using one during the course. Whether you want to learn for personal or professional use I am sure this course will give you all you need and more. Thank you Celia - I can't wait for level 2
"
"I have just completed the level 1 Bach Flower course today with Celia. I cant recommend Celia enough. She is an amazing tutor, very knowledgeable in her field of practice. I have completed a number of other complementary therapy courses through Further Education Colleges and this level 1 course and its content is on the same level if not better. In both its content and delivery it is excellent. I was a bit worried initially with it being on Zoom but these worries soon disappeared. I am looking forward to further study and to complete the level 2..."
"I have just completed Level 1 with Celia. I can honestly say it was one of the best courses I have completed online. Celia kept it simple. All participants were friendly and helpful. Thank you Celia."
"...just wanted to thank you for a great course. I'm writing up my notes and can't believe how much we covered. This little box of remedies never ceases to amaze me as to what they can do and I'm really looking forward to building my relationship with them!"
"I had the most interesting time over the last two weekends. So grateful that I found my way onto the course and connected with a special group of people. Your zooming techniques were great and the time went so quickly. Thanks for all the importing of knowledge and insight and it's been quite lovely to reconnect with Bach..."
Bach Flower Level Two online 2024
NEW - Online Level Two Distance Learning Programme
Dates: Mondays, February 12, 19, 26
March 4, 11, 18
Six weekly sessions 6.30-8.30pm
Course fee: £245 including online manual, personal downloadable dossier and any other course materials plus signed Bach Centre approved Level 1 PDF Certificate
Information on L2 online (Distance Learning Programme - DLP)

Introduction to the course

The Level 2 Distance Learning Programme (L2 DLP for short) is an
advanced course on Dr Bach's system. It follows on from Level 1 (which
you must attend before starting this course), and seeks to give you
more understanding and experience of the system.

The L2 DLP has six main elements:

A course guide that sets tasks, asks questions, and organises the course for you. A Dossier where you write your answers to questions, reflect on experiences etc.

Online videos to watch
Written material to download and read
Real-world activities to do at home, sometimes alone, sometimes with
friends or family
Six online real-time sessions with a trainer and a small group of
other students, where you can take part in exercises, learn from and
share with other students, and raise questions

You will need reliable internet access and a good command of English
to take part in the course.

When you take part in the L2 DLP, you enter an open-ended course that
you complete to your own schedule. Best advice is to complete the
dossier at most six weeks after completion of the course, whilst it is
fresh in your mind.

The fee and what it covers

The fee for the course is £245. That gives you access to
the course guide/Dossier, the written material and the videos; and
allows you to participate in each of the six online sessions. You
don't need to pay any more than that to complete the course.

The online sessions

There are six different live online sessions, and you must take part
at least once in each of them. Each takes around two hours to
complete.

Confidentiality and respect

Some activities in the L2 DLP involve thinking, writing or talking
about personal experiences. Learning about our own feelings is a key
part of using Dr Bach's system, but you can and should set your own
limits so that you are always comfortable about what you choose to
share.

During online sessions the trainer running the session will remind you
and the other students in the group of the need to respect the
confidentiality of anything shared with others during the activity.

At the end of the course your completed Dossier will be read by me
(and cc'd to the Bach Centre for the feedback section). It is not
assessed or marked in any way. Once the certificate has been issued
all copies of the completed Dossier held by me and the Bach Centre are
destroyed.



Using remedies on the course

The course assumes that you have access to some at least of the 38
remedies and the traditional emergency mix.

If you don't have remedies of your own and can't borrow from a friend,
and can't find them locally, you can order a blend from me.

When you finish

You need to engage with every part of the course in order to complete
your Dossier. When you have done everything, you send your Dossier to
me to check it through and I then send you a Bach Centre Level 2
certificate. All certificates are sent by email.

The Level 2 certificate allows you to enrol on any Bach
Centre-approved Level 3 course, anywhere in the world. Completing
Level 3 gives you the opportunity to apply to join the Bach Centre's
International Register of Practitioners.
Bach Centre-approved Level 2 courses are the next step for participants who have completed an approved Level 1 course.
Level 2 gives you the opportunity to acquire confidence in choosing the right remedies for yourself and others and gain a deeper understanding of the remedies.
Topics covered include type and mood remedies and subtle differences between remedy pairs. You will also deepen your knowledge of Dr Bach's philosophy and explore how it might enrich your own approach to life.
Level 2 courses are fun and interactive (and non-examined). They are more of a master-class, bridging the gap between Level 1 and 3.
You will receive a Certificate of Attendance showing the Course is approved by the Bach Centre.
Once you have completed Bach Levels 1 and 2, you can move on to any approved Level 3 practitioner course.
Student Testimonials
"I can't praise Celia highly enough. She is a wonderful teacher. Her methods of teaching are informative, clear and easy to follow. She is very passionate about the Bach Flower Remedies and she is an inspirational person! It also helps that she is a very calming person which gave a relaxed and comfortable feeling throughout the course.
Her teaching has given me the tools to confidently carry on my journey with the remedies.
Her teaching methods were very useful and easy to understand and remember. The dvd, picture cards, Bach's books, case studies that we were given gave everyone a different way of learning the remedies.
It makes all the difference when you have a teacher, like Celia that is focused and passionate about their subject and can put that across in their teaching in a way that makes everyone learn to their full capability and inspire them to continue on their journey with the remedies."
"Celia is wonderful - as well as being completely approachable and infinitely patient, she uses a variety of teaching methods to cater for all learning styles. There was ample opportunity to ask questions and Celia's passion for Dr Bach's system and remedies is contagious. We are all hoping that she will be able to deliver Level 3 in Wales at some stage."

"It was an amazing course I was lucky enough to have Celia tutor me for the Level 1 too. Her knowledge and passion for the Bach remedies and the Bach system is something I will never forget, she truly is an inspiration and has a wealth of knowledge. As a tutor she is patient, kind, understanding and delivers the information at a pace that everyone can follow no one is ever left out and she has a knack of bringing the course together with her exercises we all felt very in tune with each other. A fabulous course I enjoyed every moment.."

"I wanted to thank you again for quite honestly the best course I have ever been on. I say that because I have come away feeling like I have really learnt more about the remedies.. I am so much more confident with recommending them for customers and excited for myself as I am now looking forward to using them daily and seeing where it takes me" - Anita, Health Shop Manager
"A really interesting and inspirational course - it gave me the motivation to confidently use Bach Remedies for myself and family"
"Well-balanced, easy to understand, fun exercises, really warm, comfortable, welcoming atmosphere" - Suki, Pharmacy Assistant
"Great! Really enjoyed both days. Wish it was longer than two days!" Laura, Therapist
"I really enjoyed this seminar, in fact, I absolutely loved it! I look forward to expanding my knowledge and understanding of the Bach Flower Remedies - A, Soul Midwife
"Very well organised and presented. I really feel like I have a good understanding of the basics. Excellent hospitality and lunch made the course even more enjoyable."- Robert, Business owner"
"Absolutely brilliant weekend. Thank you"
"It was an amazing, wonderful and fabulous course. It's given me faith in myself. Thank you"
"I found the course amazing. I felt welcome and felt I could ask any questions"
"Every one of the 38 Remedies was discussed fully so I could understand"
"Celia was lovely, she is very welcoming. I felt very at ease".
"Celia's depth of knowledge and experience is helpful to understand the true depth of each remedy"
"I thoroughly enjoyed Celia's company and her apparent passion for this subject"
Bach Flower Level 3, Practitioner Training
Online 2023 Fully Booked (next online L3 starts on April 8th, 2024)
Dates: Wednesday, 6.30-8.30pm, November 15, 22, 29 December 6, 13, 2023
January 10, 17, 2024
The Level 3 Distance Learning Programme is a Bach Centre course designed to deliver online approved training. It consists of these elements:
Seven live online group seminars via Zoom, led by Celia Stewart
Two one-to-one online sessions per student, where Celia can give detailed feedback and help to that student
An online course manual, which helps students prepare for the online sessions and guides them through background reading and learning
A Dossier in which students answer questions and reflect on their learning

Videos

in the online course manual to watch and respond to (links in the manual)

Written material

to download and read from the online course manual

Real-world activities

to do at home, sometimes alone, sometimes with friends or family

A personalised assessment process including a viva voce assessment live on Zoom and a real-life consultation, which will be observed by an experienced practitioner
In person 2024
Friday May 3rd to Monday May 6th 2024, at beautiful Somerset retreat centre
Format:
A four day classroom course, followed by supervised home study.

Level 3 focuses on consultation skills for those who wish to work professionally with others and join the Bach Centre register.

Includes written assessment, extended essays and case studies.

Takes about six to 18 months to complete
Course fee (2023 price) £825 includes: all teaching and training materials. Does not include accommodation. Limited residential space available.
Please contact Celia 07761-016521
Bachflowercourses@gmail.com
www.facebook.com/BachFlowerCourses
Feedback
I have had both a Bach Flower Remedy consultation with Celia and attended all 3 levels of the BFR training with her to become a practitioner myself. With the consultation, Celia was attentive and listened to what was going on with me and she discussed and agreed remedies with me, making it really collaborative and ensuring I was involved in determining the remedy. It was really helpful and useful! Thank you!
The training courses for the 3 levels were amazing. Celia is an excellent teacher and very inspirational to learn from. Her knowledge is excellent and her authenticity is wonderful to be around. Levels 1&2 were online in small groups and Celia managed this very well, keeping my attention and focus throughout. Level 3 was in person and felt like a retreat rather than a course! An excellent facilitator of all learning styles, I highly recommend Celia for learning more about the remedies!
Thanks so much! :) KJ, May 2023
I decided I wanted to take my experiences of BFR to the next level in February 2022 and studied with Celia for levels 1 & 2 on zoom. She organised the zoom meetings really well with breakout rooms and just enough homework to keep us going. I past level 2 in December 2022 and waited patiently for Celia to bring us level 3 at the end of April 2023. The course was residential, over 3 and a half days. Which I felt was much better than it might have been doing it on zoom. The role play and listening exercises were particularly good in person and the banter and support from fellow students was really good. Celia is a great teacher. She remained professional while keeping a sense of humour and supporting us throughout the weekend. I recommend the courses to anyone with an interest in learning more about these amazing remedies. Thank you Celia. HL, May 2023
Everyone's life would be so much more balanced, happy and light if they learnt about the Bach flowers!
I have studied all three with Celia and they have really supported me emotionally. She's a fabulous instructor/teacher. Fun, professional, extremely knowledgeable about the remedies and a genuine person.

Amazing little box of sunshine for every emotion you feel, good or bad! No judgment at all. Try it for yourself, nothing to loose but an amazing amount to gain. HP, May 2023
"Everyone of us is a healer, because everyone of us at heart has a love for something, for our fellow-men, for animals, for nature."
- Dr Edward Bach, 1932
"And now we come to the all-important problem, how can we help ourselves?"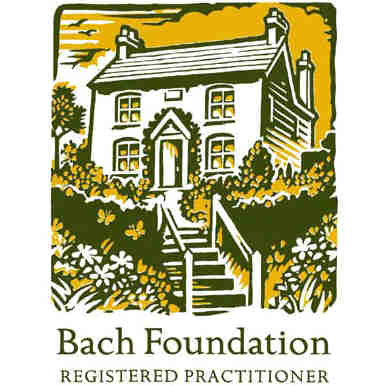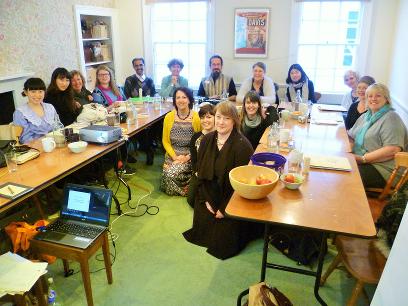 Students on Bach Level 1 in Bath, March 2015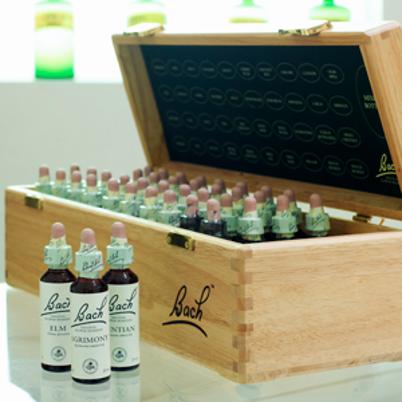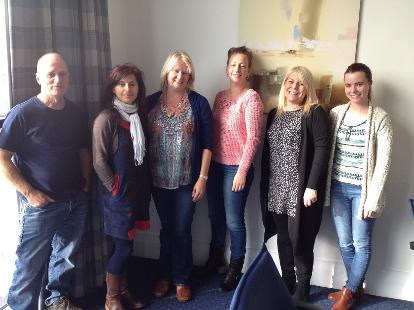 Teach Therapy students in Newport, Wales after completing Level One, October 2014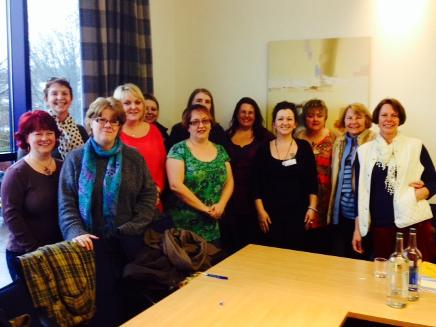 Teach Therapy students in Newport, Wales, pictured after completing Level One, March 2014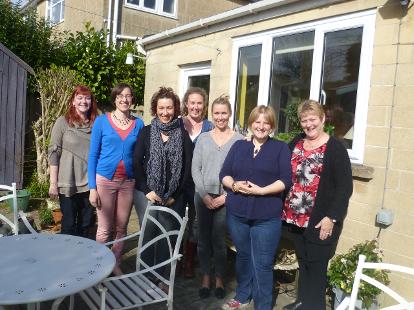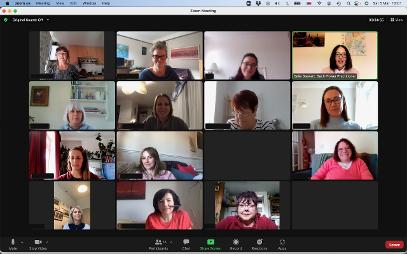 Level 1 students on Zoom, March 2022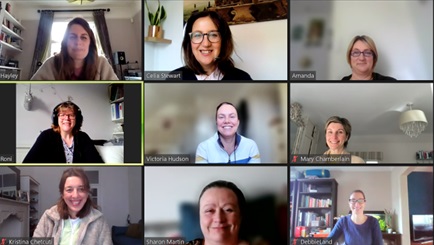 Bach Level 1 students on Zoom, January 2023